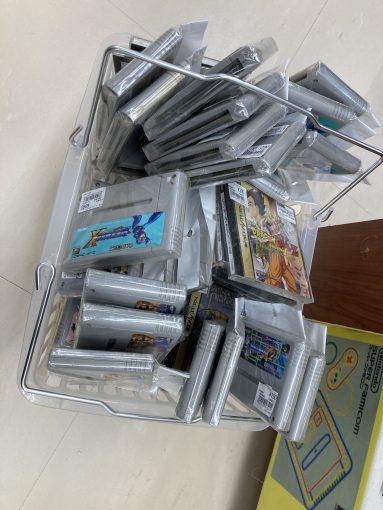 So I went to visit my hometown's game store today.
They've got lots of cool stuffs. Take a look at a photo of the shopping basket full of games I got. But I was told this……….
"You can only buy 3 video games total. It is our store policy."
I asked what did she say again and she (store clerk) said the same thing. I can only buy 3 games.
So I basically told her, "OK then, I don't want to buy any of this." And I laughed at her and left the store with a basket full of merchandise.
I totally understand that resellers buy out PS5 and selling for $1000. And yes, restricting that kind of sales are necessary because retail stores can't change the retail price for New item and that's not good for gaming market since console producer makes money on selling games and if customers can't buy the console, they wont be buying games. But hey, it is a used store and they basically put any price tag they want. Also their prices are not particularly cheaper compared to online used price, especially they are changing 10% sales tax in which not many online sellers are doing that. If you try to resell, you probably won't make any money considering all fees and shipping costs. Restricting the number of sales for what?? It doesn't make any sense. I didn't even see a sign saying the restriction. Anyways, they just lost roughly $700 sales from me. If anyone can explain why this store is doing, please let me know. I am just scratching my head…
As a store owner myself, I just think this is such a dumb move. If someone wants to buy tons of my inventory, I would even offer a huge discount. Inventories need to be moved so that I can buy more cool things and also this way I can stay in business.
Anyways, I was a kind of shocked but I moved on.
Today, I went to get a haircut and experienced auto shampoo machine. I should've taken a photo but I didn't. It's like a automatic machine car wash on your head!! Water pressure was so perfect and it was very goood!!
Then, I went to renew my Japanese drivers license. I have an excellent driving record and got a gold status because I only in Japan maybe a month out of 5 years period.
I had some delicious meal at home with my family. I was craving good seafoods for so long and finally getting it fixed. Next one is good Ramen…
I will be visiting another store in bigger city on Sunday and hopefully I can have a better results. My journey continues….
Thank you for reading this long post!!